---
Renesis Tech (Pvt) Ltd. is a tech startup founded in 2016, operating in Pakistan's ever-growing IT sphere. The company offers a variety of services from UX/UI development to complete AI solutions. Unfortunately, just like the rest of the market, they have had to face a new challenge as the growing number of COVID-19 cases spread across the country. As the demand for their services did not decline, they needed to stay ahead in the competition for IT talent on the market. They were looking for a remote recruitment solution to engage and shortlist candidates in the quickest way possible and to identify key personality traits and competencies without the need for in-person meetings. Since there's co-dependence between the HR and IT departments, the technical pre-screening on the HR side is necessary so that candidates with appropriate hard skills are interviewed further. They were searching for a method that helps recruiters become more independent when it comes to finding people with proper hard skills and suitable personalities. After working with Benchmark.games, they were happy to realize a more than 50% decrease in time-to-hire and an additional increase in candidate satisfaction during the selection process.
Aiming to hire the best-fitting candidates
After recognizing the need for a long-term online solution, at first, Renesis Tech wanted to see how our game-based assessments work in a live recruitment process, which led to the evaluation of over 30 fresh graduate students for an IT Internship position. The project's main focus was to identify the traits necessary for the job and create an insightful shortlist without needing to pre-screen every single CV while also providing the best candidate experience possible.
After a brief meeting with the software house's HR decision-makers, a tailored assessment was implemented within a day. The recommended assessment tool was CurioCity, a simple but insightful 15-minute-long pathfinder game, with mobile accessibility, which measures various cognitive abilities ranging from analytical thinking to monotony tolerance - the perfect solution for assessing candidates for IT positions. Together with Renesis Tech, we decided to go with an invite-only option, which meant that only the candidates with an authorized email address could take the assessment, thus avoiding applicants' gain a potentially unfair advantage. The shortlist of recommended candidates for further interviews was ready within 48 hours. The process was quick due to benchmarking existing employees first. Based on the company's key performance indicators, we compare the candidates' in-game behavior and cognitive profile with Renesis Tech's top performers in that specific position. Being a new and growing company, Renesis Tech did not have the employee numbers to provide sufficient data for our machine learning algorithms. As we usually operate in situations that do not provide enough input, we used our industry experience and database to combine it with the information from Renesis Tech about the ideal candidate. By the end of the project, the company received an elaborate, tailored shortlist while all the candidates received a Renesis Tech branded, automatic feedback report, highlighting their main strengths and an area for development. "It helped me make decisions quickly, it helped me see the candidates better," said Masood, the Head of HR at Renesis, when we asked him about his experience with the assessment.
Increased candidate experience and quick results
Shortening time-to-hire is always a challenging and crucially important objective. This is especially true for the IT sector, where quick response time and swift decisions have an increased impact on turnover rates due to the high demand on the labor market.
We were also pleased to see Renesis Tech reduce this highly important key performance indicator.
"Before using Benchmark.games, if I allocated a full-time employee on a specific position, the time to hire was around one week; with Benchmark.games, it was reduced to 2-3 days in total," mentioned Masood in one of our meetings.
Besides the employer's experience and opinion, we found it essential to ask what the candidates thought of the re-designed process. We asked them about their overall impressions, their opinion about the automatic report they received, and collected feedback on how difficult and fun they found the assessment. Their opinion about the difficulty varied (average score of 5.85 out of 10), although they reported finding the game-based assessment quite entertaining (average score of 8 out of 10). Moreover, we received a handful of positive feedback such as "I was pretty impressed that Renesis Tech came up with a different idea to assess the abilities in just 10-15 minutes" or "Using technology is a really commendable approach to measuring a person's behavior".
Apart from leaving both sides satisfied, the new approach created an overall buzz within the company and its sector: "I was pretty confident that this is something new, and it will bring some flavor to recruitment in Pakistan. The feedback was very good. When I talked to some outsiders, with friends at other software houses, they were interested", explained Masood.
Expanding the scope of assessments
After having this first experience with the pilot, Renesis Tech decided to expand the usage of the game-based assessments for various positions within the company ranging from Financial Analysts through DevOps engineers to UX/UI Designers. After having experienced our assessments' adaptability, the company expressed its interest in long-term cooperation with a complete all-in-one solution. They intended to get to know even more about the candidates during the pre-screening process, not just cognitive abilities. We created a tailored questionnaire for them based on their inputs, which automatically follows the game-based assessments in the process. The additional measurement of language skills, programming skills, and specific personality types helps Masood and his team to make even better decisions and, as mentioned before, to depend less on the technical team during the recruitment process.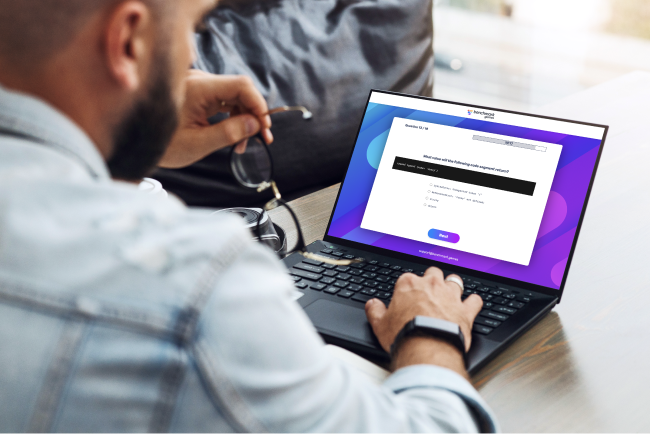 As Renesis Tech's goal is to expand and grow its workforce, they will continue cooperating with Benchmark.games as a complete solution to recruitment. They are planning to integrate the assessments into their applicant tracking system to simplify the process further.